To make online payments visit GoodmanMOPmts.com.
                                                                                        City Hall now accepts your debit/credit cards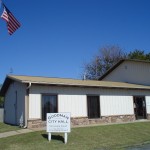 City of Goodman
 203 W. Barlow St
 Goodman, MO. 64843
 Phone-417-364-7316
 Fax-417-364-7314
Office Hours:  7:30 – 4:00, Monday – Friday
The City of Goodman became a Fourth Class City on November 6, 1956 when the Village of Goodman voted in favor of incorporation by a vote of seventy-two (72) to two (2).
The population of Goodman as of the 2010 US Census is  1,248.
The City is ran by the Board of Aldermen. We have a Board of Aldermen which consists of the Mayor, two Northward Aldermen and two Southward Aldermen. Board meetings are held the first and third Tuesdays of the month at 7:00pm.
We have an elected Municipal Judge and hold court the first Tuesday of the month at 5:00pm.
The Goodman City Hall is located at 203 W. Barlow St.  The City has two office employees, two public works employees and two police officers.
The City has an elected Tax Collector. The City Collector collects Personnel and Real Property taxes. The tax rate for the year 2017 is 0.6671 per $100.00 evaluation.
The City of Goodman also has a Recreation Department which conducts Baseball and Basketball programs.
ALL CITY ORDINANCES ARE UPDATED ON THE WEB PAGE YEARLY